Styles of massage
Relaxation/ Swedish Massage
Relaxation massage is a smooth, gentle, flowing style that promotes general relaxation, relieves muscular tension, plus improves circulation and range of movement.
Remedial Massage
Remedial massage can either be strong and deep or gentle and shallow depending on the problem area. It's aim to to treat muscles that are knotted, damaged or tense.
Pregnancy Massage
Pregnancy massage is a very relaxing massage that is adapted for the anatomical changes you go through during pregnancy. Normally you'd spend more than half of your massage laying face down which is uncomfortable or impossible with a baby belly.
about

zensations
massage

Zensations Massage owner Rebecca is an accredited massage therapist.
Zensations offers relaxation massage from their relaxing treatment room located in the heart of Hervey Bay.

Zensations is built upon a passion for "hands on healing". Initially from personal necessity of aiding in the healing of injuries to my husband as well as our beloved dogs, then pain relief to older members of our families. The results were enriching and rewarding and the passion has evolved into a vision for "hands on healing".

Let Zensations help you and your loved ones as part of a holistic relaxation, injury treatment or pain relief program.
about

Rebecca
Rochow

Rebecca is an accredited practitioner, completing her Certificate IV in Massage Therapy in 2013 including extended studies in ear candling. Rebecca has a passion and a skill for helping others and has an extensive background in hospitality and service based industries where excellent customer service, engaging communication and trusting relationships are essential.

Growing up in a country setting, surrounded by family and animals provided her with every opportunity to develop a love of assisting others through the power of massage both for healing as well as relaxation. Injuries to both her husband and their dogs (Fred & Zipper) created a personal need to utilise these past skills and subsequently renew her passion in this field. Her husband and their family dogs have healed and Zensations has evolved
about

zensations
massage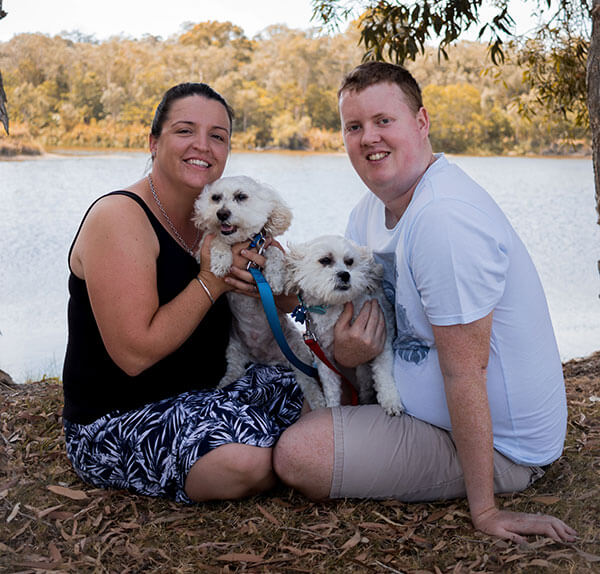 about

Rebecca
Rochow
Bec is confident your experience with Zensations will be filled with the utmost satisfaction.
I've been receiving massages from Bec for relaxation and left shoulder and neck strain due to sleeping in the wrong position for 6 months now. Bec has not only taken away the pain and strain I feel when moving but she has improved my sleep.

Bec makes you feel comfortable and relaxed in a home environment whilst talking to you about the best way to treat your ailment or injury.

I would recommend Bec to anyone. I look forward to my massages every time because I know I am in good hands.
Catherine
For over 12 months now, Bec has been an absolute saviour to my neck and back.

My physical job and sports cause me much pain and stress and Bec has helped me greatly with this.

A wonderful relaxing environment while she works, helps me to unwind and distress.

I was always hesitant to change masseuses but now I wont go anywhere else! Ryan Leman
I've had nothing but great experiences with Zensations!

Always exactly what I've needed!

Friendly and relaxing atmosphere accompanied with professional service!!

Highly recommended!!! Melissa Dearden
I am only a new client to Bec.

I was referred to her by a friend who couldn't stop telling me how good she was.

Since Bec has been treating me, my aches and pain have improved dramatically.

She has been fantastic. Ben Ryan
Bec has a knack for finding "trouble spots" and working with you to relieve tension, so at the end of your massage you feel relaxed and refreshed.

She'll tailor her techniques to give you the massage that's best suited to you and your needs. Wayne Nelson
I started to receive massages from Bec due to my body being sore and tight from all the sport and gym workouts I do.

I usually get a full body massage that leaves me feeling refreshed, relaxed and loose.

The atmosphere provided was excellent and I was made very comfortable from the beginning to the end.

I would highly recommend Bec to anyone who is looking for a decent massage for specific areas or a full body one. Christie Palmer
For the last few months I've been having issues with my shoulder. It started as mild pain but grew to be quite painful, especially under my shoulder blade.

Bec was recommended to me by a friend. Going to see Bec for my shoulder was the best thing I could've done. Bec has been able to alleviate the pain in my shoulder. I've been going for weekly visits and now have full movement again.

I am extremely happy with Bec. She is not only professional but is also listens to my specific needs. I don't just feel like another client, I feel as though she is genuinely interested in helping me recover.

I would recommend Bec to anyone who was having the same issues that I've been. I look forward to keeping my weekly visits with Bec. Rebecca Ferlazzo
I would recommend Bec to all my friends, she is friendly and cheerful, and makes you feel comfortable.

Her massages are to die for and I know I wouldn't choose anyone else. Lucy Wilson
Working a lot of hours on a computer has meant a constant battle to keep my body feeling good.

A regular firm therapeutic massage is essential and I always feel so much better afterwards.

Bec gave me great tips on how to maintain at home as well. I am feeling much better and I promise I'll keep doing my stretches! Matt
I've been having massages from Bec for about 6 months.

I've found that her massages have really relaxed me.

Having Rheumatoid Arthritis these massages have helped me with managing my chronic pain.

Highly recommended Bec Kerry Barker
I had my first massage with Bec in September 2016 and it the best massage ever

I left feeling so relaxed and all my sore muscles felt better, anyone looking for a massage I highly recommend Bec. Rachael Rhule
Will definitely be back!! Loved my relaxing massage, highly recommend you all get one :) Carly Spencer
Bec does a great massage, been going to her for sometime now, and would recommend you book in NOW. Looking forward to next one. Kathryn Holland
Had my first ever massage with Bec from Zensations & it was magnificent. Totally made me want to go to sleep as it was so relaxing. I even asked if she wouldn't touch my feet as they are very sensitive & she was very accommodating in making sure to not touch them. I give her 5 stars & definitely can't wait to make my next appointment with her. Amanda
I had a car accident over forty years ago and have 1 leg that is a inch and a half shorter than the other and 2 fused vertebrae in my back. Rebecca's massages are heaven. Rebecca really takes care to find out what you need and what massage technique will benefit you best. A massage done by Rebecca is highly recommended. Your body will be thanking you for days Gordon Barker
Highly highly recommend Bec. I had a massage on the weekend and have felt very relaxed ever since.. Will most definitely be returning Charmain Hazelwood
This is the best massage I have had in 5 years, been 2 weeks straight booked in again. I moved to the bay about 18 months ago and kept getting massaged by sub standard butchers charging high rates. Highly recommended, Thanks Bec I feel alive again! Jason Palffy
Awesome I don't like massages but Bec is awesome and lovely will definitely be back again. Thank you Bridget Dicello
Great massage, relaxed atmosphere, I'll definitely be back thanks ! Chris Anderson
I had my first pregnancy massage with Bec and felt so much better after. She has so much knowledge and taught me so much about what not to do with massage when pregnant. I felt very relaxed and in great hands. Kloe Spencer
Great service and price. Bec always helps after I do something stupid and hurt myself Chris Ferlazzo
I was on holidays in Hervey Bay and was in need of a relaxing massage and used Zensations Massage. I had the most relaxing massage ever will definitely go back again Thank you Rebecca X Jennifer Starr
Thank you Bec, the massage was fantastic, I'll certainly be back, and it was a bonus to meet your two little fur babies, so cute. Eileen H
Thank you Bec for working your magic today.
I feel so much better already!!! Wendy
Best experience ever for a massage. Bec makes you feel welcome & comfortable. Highly recommend & I'll definitely be coming back again. Amanda Kirkwood
Great job Bec!
Fixed me up when I was very broken.
Thank you :) Tri
prev
next
what my clients

have to say View More
Better yet, make a booking enquiry now!
Copyright 2023 | Zensations Massage Hervey Bay